Meet Our People: Sébastien Viard
Image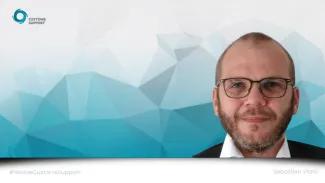 In our series #WeAreCustomsSupport, you will meet the people behind Customs Support. We value our colleagues and the work they do. In this series, we will interview the people who are always ready to assist you with importing or exporting your goods without worries. Next up in this series is Sébastien Viard, who is Managing Director France.
Who are you?
My name is Sébastien Viard. I'm 42 years old, and I live near Nantes with my wife and my two kids. My career started in the field of customs, and I never left. I have worked for large logistics service providers like Geodis and DB Schenker and have managed different customs operations. In October of last year, I joined Customs Support as the Managing Director for Customs Support in France. 
What does a Managing Director do?
Obviously, I need to make sure my team can perform optimally. I stay in contact with them regularly. I prefer the phone over e-mail. You learn so much more when you talk to people instead of always sending messages or e-mails. I'm glad the IT tools for working remotely have improved so much. It's better to be able to see the person you are talking to.
I have to have a clear view of what goes on in all key areas of the business. Operations, Human Resource, Finance. I have to keep an eye on our clients as well.
What does a typical day look like?
I think I still need to experience my first typical day. The customs world is very dynamic. There is always something going on, always something changing. Our business is non-typical, and that is why I like it so much.
I spend a good portion of my day in meetings with my team, customers, and colleagues from other Customs Support countries. I also work on strategic projects to grow and improve our operations in France.
What do you like most about your job?
We keep growing and are constantly adapting to the changing circumstances in the global supply chain arena. This is very challenging, and I like a good challenge. Adapting means change in the organisation as well, and I also like managing that. Motivating my team, and enabling them to go through these changes and become even more efficient.
What is your biggest challenge?
My biggest challenge is the change I was talking about. Joining Customs Support has greatly increased our digital capabilities in our French operations, but implementing digital innovation requires changes in the organisation. People need to get used to new ways of working, and some people adjust better than others. Successfully transforming and improving our operations is my biggest challenge, but I'm confident we will be successful. I have a great team.
What do you do when you are not in the office?
Well, as a Frenchman I love good food. Having an aperitif and a nice dinner with friends or family is something I love to do.
I also love being in nature. We live close to the Atlantic ocean, and I love taking walks near the coast with my family. It is so beautiful there. The peace and the quiet, the natural environment and the encounters with animals. It's the opposite of the hectic world of global trade and customs. The perfect balance.
Why Customs Support?
Knowledge and high service are key in our industry, and being a part of Customs Support enables us to leverage the knowledge of experts and specialists across our organisation in other countries. It means we can serve our customers even better. The digital capabilities I mentioned earlier are a huge benefit as well.
The final thing I'd like to mention is the kindness in the organisation. It's part of the organisation and not a gimmick. You don't see that often in large companies. I think it is one of the best elements of the Customs Support culture.