Meet Our People: Simon Rouse
Image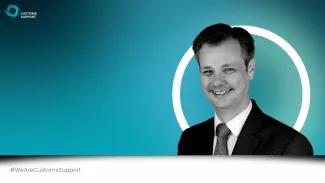 In our series #WeAreCustomsSupport, you will meet the people behind Customs Support. We value our colleagues and the work they do. In this series, we will interview the people who are always ready to assist you with importing or exporting your goods without worries. Next up in this series is Simon Rouse, who is the managing director for the UK.
Who are you?
I'm Simon Rouse, the new managing director for Customs Support in the UK and Ireland.
What does a managing director do?
My role here is to help integrate the businesses that have become the Customs Support Group in the UK, focus on making this a great place to work and to grow our customer base and business.
I joined Customs Support because I am really interested in the business, the marketplace, and the opportunities that are here. We are keen to drive the digital agenda and make this a company that our colleagues and clients are happy to work with. That's what I am here to do.
What does your typical working day look like?
I am still in my first few weeks, so I've been visiting the UK and Ireland offices, meeting the teams, and getting to grips with some of the acronyms as my background isn't in customs operations.
A lot of my time is spent analysing the setup of the branches, how we can integrate them, and what we can do to be more efficient as a team. Gary and Emmett have been bringing me up to speed on the current operations and sales processes, so my time so far has been about learning the business and then exploring with colleagues what we need to do in the UK and how we are going to do it.
What's an acronym you've discovered that would be useful for people to know?
One that I have needed to learn quickly is SCDP for Simplified Customs Declarations Processes. It's an important part of what we provide as it isn't a standard import clearance service that every customs broker can do. That SCDP acronym hides a key function of our specialised clearance teams and a major difference we can make to our customers.
What do you like most about the challenge of being the managing director for Customs Support UK and Ireland?
One of the challenges that we have is that we have people in several locations that are distant from each other. To build a culture across that scale is difficult compared to a couple of neighbouring offices.
From what I have seen so far, we already have a fantastic team here at Customs Support and the foundations are there for our UK and Ireland offices to connect even more. I have no doubt that we can achieve great things here, and I am looking forward to the challenge.
What do you like to do when you're not at work and how does that outside life influence your work skills?
I am a big family man, and spend a lot of time with my wife and my two children. I also really enjoy watching and playing sport, particularly football, rugby and tennis.
I learn a lot from watching elite athletes, how they prepare, constantly look to improve and handle high pressure moments. I believe those are skills that can also make a massive difference in the workplace. I like to keep improving so that I can put my best foot forwards at all times.
What's your #1 personal development book?
I've read a lot over my career, and one of the books that I recommend is The Barcelona Way by Damian Hughes. It talks about how Barcelona Football Club built a culture to become successful, and how those practices can be applied to business to create winning teams.
I have been lucky to work with Damian at different points in my career and he's been a key influence on my approach to business culture. I also recommend the "High Performance Podcast" he does with Jake Humphrey.
You're running the London Marathon next week. How do you feel?
Training is occupying a lot of my time, I actually hate running, but it's my third London Marathon and I am doing it for the Alzheimer's Society again so it's worth it. Alzheimer's has affected my family like many others, so I truly understand the way it robs people of their memories and precious time with loved ones. It's a cruel disease, and I am a passionate supporter of the charity for the work that they do to support those affected.
What is the most important thing a client should look for when looking for a customs broker?
Confidence that they can be a true partner in your business. That's about managing your compliance risk well, but also about efficiency and being able to trust that your customs broker will bring you results as a strategic partner. If you aren't confident that your broker can do that, then there is something wrong.
You now work with a Europe wide network. If you were to visit an office location of custom support, which city or country would you want to see first and why?
Sweden. I've never been but it looks like a beautiful country. Their business environment is also very successful, and I'd love to see it up and understand more about it.